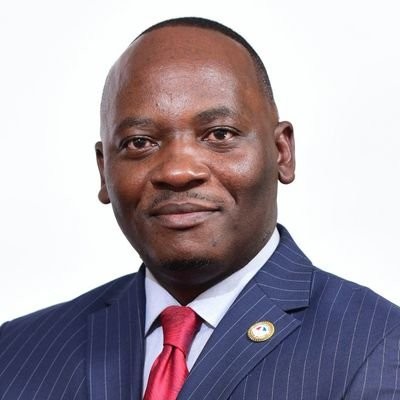 MPUUGA MATHIAS
---
Role : MP
District : MASAKA CITY
Constituency : NYENDO-MUKUNGWE DIVISION
Political Party : NUP - National Unity Platform
Religion : Anglican
Age : 47
Proffession : Work
Marital Status : Married
Phone Number : 0772418504
Committee :
Parish :
Email : mmpuuga@parliament.go.ug

Mathias Mpuuga is a Ugandan politician, Lawyer and Teacher by profession. Like a rope, Mpuuga's strength lies in his feeble-life appearance but strong-willed inside.
Formerly a Democratic Party member, Mpuuga joined the National Unity Platform (NUP) in 2020 led by Robert Kyagulanyi aka Bobi Wine, 2021, presidential candidate together with 10 other DP Bloc members.
These included; Joseph Ssewungu (DP), Medard Ssegona (DP), Betty Nambooze (DP), Moses Kasibante (Ind), Muwanga Kivumbi (DP), Allan Ssewanyana (DP), Ssempala Kigozi (DP), Ssentongo Robinah (DP), Veronica Namaganda (DP), Florence Namayanja (DP).
Mathias Mpuuga is currently the Deputy President of the NUP Party in charge of the Buganda region.
Early Life and Education
Mathias Mpuuga was born on 12 October 1975 to the late Vincent Nsamba and Gertrude Nsamba in Masaka District.
He attended Kyamaganda Boys Demonstration School, completing PLE Exams in 1987 then Masaka SSS and Nakyenyi SSS where he sat his UCE and UACE exams in 1992 & 1994 respectively.
After, Mpuuga joined Makerere University in 2009 to study for a Bachelor's Degree in Education, and then in 2016, he again joined Makerere University to study Bachelor of Laws (LLB) Degree.
Work and Experience
Mathias Mpuuga is the current Member of Parliament Masaka Municipality Constituency first elected in 2011 till date.
Principal/Managing Director of Datamine Technical Business School, 2003-2011
Managing Director of Liberal Consult Ltd 2001-2004
Minister for Youth, Buganda Kingdom, 2008-2010
Teacher, Uganda Martyrs High School Lubaga 1998-2003
Director Masaka Town College, 2000-2002
Youth Chairperson, Masaka District Local Government, 2000-2011
Member, University Council, Mutesa 1 Royal University 2010 to date.
Committee Membership
Public Accounts Committee
Politics
Interestingly, despite having been exposed to politics at an early age, throughout his secondary school years Mpuuga did not dabble in politics. However, during his first-year study at Makerere University, he joined other students to form the Uganda Young Democrats (UYD) – which became the youth wing of the DP.
UYD pioneers include; Lulume Bayiga, the Buikwe South MP, Michael Mabikke, the former Makindye East MP, Erias Lukwago, the Lord Mayor, Muwanga Kivumbi and Rose Namayanja, the minister of State for Luweero. Mpuuga was also part of Ssemwogerere's campaign taskforce during the 1996 general elections.
His task was to mobilize the youth of the greater Masaka district which was also part of Ssemogerere's campaign taskforce during the 1996 general elections.
His task was to mobilize the youth of the greater Masaka district which currently includes the districts of Masaka, Lwengo, Bukomasimbi and Kalungu.
"That election introduced me to very many prominent people that have since then helped the building of my career," Mpuuga said with relish.
Besides, the 1996 election also introduced Mpuuga to youth from across the country and this strengthened UYD which in turn groomed many young people into national leaders. These include Mohammad Kezaala Baswari, the DP national chairman and Jinja Mayor, and Medard Lubega Sseggona, the Busiro East MP.
Mathias Mpuuga was little known until he became one of the people who led the Walk-to-Work campaign in April 2011, which in many ways continues to define his political life.
He coordinated the campaign, Mpuuga in effect ensured that the protests moved smoothly and continually updated the public about the next course of action. He was constantly in the news, most times condemning the Police's highhandedness in the demos, or announcing the new strategy to be adopted by Activists for Change (A4C).
Mpuuga says he is naturally a politician, having grown up in a politically charged environment. At the age of five in 1980, he recalls having interacted with politics when his dad, Vincent Nsamba, a sub-county councillor in Lwengo, mobilized people to support the DP candidate, Paul Kawanga Ssemwogerere in general elections held that year.
"I remember how he used to bring people to our place and they could discuss politics," Mpuuga said. His mother, Gertrude Nsamba, is today a sub-county councillor in the Lwengo district. Like son, she subscribes to DP.
Mpuuga did not join active politics immediately although his colleagues joined after leaving university, Mpuuga chose to first serve his kingdom, Buganda.
Having been an active member of the "Nkoba Za Mbogo", a youth organization, during his campus days, he was appointed by Kabaka Ronald Muwenda Mutebi to represent the youth in the Buganda Lukiiko.
Then 22, Mpuuga set the record of having been the youngest member of the Lukiiko ever. He served the Kingdom from 1998-2008 and youth participation in the Kingdom's activities was commendable, something that motivated the Kabaka to appoint him minister for the Youth in 2006.
"The youth should be mobilized for development and educative activities that will motivate their participation in the kingdom activities," he says.
Ugsound TV


ADVERTISMENT