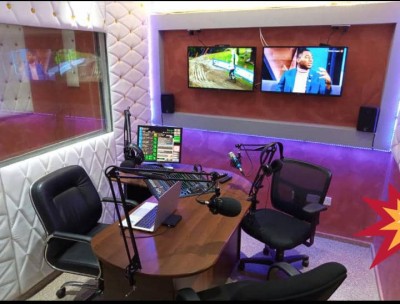 Ugsound Central Radio
Get all information you need from Central region of Uganda
Ugsound Central Radio is totally an online social service providing enterprise radio platform and resource for Ugandan art and music. It exists to link Ugandans to the world through promoting the uniqueness and diversity of Ugandan needs are met and opportunities created for those who use the platform via the online radio.
Ugsound Central Online Radio focuses on entertainment, information and inspiration to the world.
The station took to the airwaves globally 2019 with the purpose of putting a smile on every listener's face with information in the region. Although a complete commercial station, Ugsound Central Radio resonates and empathizes with the listeners.
Ugsound Central format is 70% music, 30% informative talk. Ugsound Central music, 'Ugsound best mix of songs from the 80s, 90s and now' consists of 10% international and 10% African songs. Talk comprises 80% Luganda, Lusoga and 20% other local languages.
Ugsound Central online Radio growth in listener ship has been phenomenal, making us Uganda's fastest number 1 online radio station.
Ugsound Radio broadcasts to the general listeners with regardless of geographical boundaries, origin or race, age, income but emphasizing win of smiles on faces of the listeners.
Central Uganda has 32 districts with a population estimated at 10 million.
For Business:
| | |
| --- | --- |
| Phone: +256756205190, +256784964442 | Email: info@ugsound.com |
Music Submission:
| | |
| --- | --- |
| Phone: +256756205190, +256784964442 | Email: music@ugsound.com |
Weekly Program
| | | | | | | | |
| --- | --- | --- | --- | --- | --- | --- | --- |
| Time | Monday - Friday | Presenter | | | | | |
| 7 - 10 AM | The Sunrise | Edrine K, Ken MC, Fiona | | | | | |
| 10 - 2 PM | Sports Update & Music | Shaffic Kasujja & Wasswa Dacosta | | | | | |
| 2 - 5 PM | Celebrity Eye | Martin Luther Pro | | | | | |
| 5 - 6 PM | Sports Update & Music | Shaffic Kasujja & Wasswa Dacosta | | | | | |
| 7 - Midnyte | News, Music | Hajara Nabukenya | | | | | |
| Midnyte - 6 AM | Music | Music | | | | | |
| | |
| --- | --- |
| Special Shows | Date & Time |
| News - Gloria Nakanywagi | @ 9 AM {Monday - Friday} |
| News - Hajara Nabukenya | @ 1 & 7 PM {Monday - Friday} |
Ugsound TV


ADVERTISMENT